2006 Kosciuszko - Pretty Plain
| | |
| --- | --- |
| summary: | With three hikes under my belt now, it was time to hit Kosciuszko again and try and reach the heights of Mount Jagungal via Pretty Plain and Grey Mare hut. |
| date: | 14-17 April April 2006 |
| distance: | 59kms |
| tags: | HIKE - REPORT - KOSI - PRETTYPLAIN - 2006 |
| views: | 1110 |
---
Well it's been almost a year since my inaugural hike into the Kosciusko National Park. I now have a total of three hikes under my belt so we decided it was once again time to take the long drive south and head into the countries biggest park. Our target this year was to walk right the way down the Pretty Plain valley, and then on to a climb of Mount Jugungal (2062m). Easter weekend was always going to be a busy time to do this trek, but we needed a full four days of walking to ensure we had time to complete the huge target. An estimate of 60km walking, on about a 50/50 split between track walking and off track walking. After soliciting several people that we thought might be interested in this hike, when it finally came down to making a commitment, it was only Eddy and I that could step up to the plate! This is our story…
Day 0 - Gettng There
We left Wollongong at 3pm on Thursday to start the six hour drive to our first camping site. There hadn't been much traffic or police on the road when we changed drivers for the first time at Queenbeyan around 5pm. The next stop, and dinner, was at Cooma an hour and a half later. Still little traffic or police.
We arrived and Bradley O'Brien's hut at around 9pm. This was a standard rest point on the beaten track, but appropriate for a late night stop. Since the sun had gone down at 5:30pm, it was already dark and pretty cold. There were three other parties camping around and in the hut, so we found the flattest spot we could and pitched camp. Since we bought some timber at Cooma, we were able to get a camp fire up and running pretty quickly too, just to take off the first nights chill!
Day 1 – Friday (20kms)
Although it was cold over night, we both slept well, in separate tents! By the time we got to bed, around midnight, there was already a heavy frost settling on the ground and tents, this was just a hint at the weather that we were going to experience in the next few days!!
The morning was cold and misty, but having bacon and eggs on the menu for breakfast, we were both eager to get the day underway. Although the weather was looking a little grey, the temperature had risen up to around 4-5 degrees.
We got away from camp at 8:45am to complete the drive to our hike starting point which was just a few kilometers down the road. We were very surprised to see twenty cars in the car park when we arrived and many people milling around ready to start their own expeditions into the wild KNP! Since we had already prepared our packs etc. we were able to head off pretty quickly, hopefully avoiding those awkward walking incidents when you can't quite outpace the group in front of you!
The day was looking like improving, the skies were now scattered with blue highlights. We took out first break at 10:30am, which also gave plenty of people the opportunity of getting past us! At least eight people went past us including a group of pensioners!
My first issue hit only a few minutes after we got going again. I had purchased a new hydration pack and had been sucking away on my water all morning. The all of a sudden, no water left! No way could I have drunk two litres of water already, so I jumped to the conclusion that the bag had sprung a leak! It was going to have to wait until our next stop though, so we just pushed on.
The clouds had now mostly covered up the earlier blue sky, and the wind was starting to pick up a little. We stopped again at 11:45, and would you believe it, I HAD drunk all the water from my hydration pack! Have to learn to pace myself a little better for the rest of the trip!
The next interesting part of the trip is where we were to take a right turn off the main track, and start heading for Pretty Plain. It turned out our GPS coordinate for that junction was a little inaccurate, and while we were looking at the GPS trying to work out where the track should be, we walked right past it!! No harm done, we saw the track a hundred metres down the road and made our first off track trip to get to the right place!
We broke for lunch at 1pm, but the weather was continuing to pressure us so we made it a quick stop. We had a few steep uphill climbs to complete in the afternoon, and 70m of elevation never seemed like so far to travel!
Ironically, all day long we had been looking forward to a nice fire tonight, but when we finally reach Pretty Plain, we were so far from the tree line that there was no chance of a fire! Anyway, it was also looking like the rain was on its way! We decided to push along the valley a little further before we set up camp so that tomorrow's walk was a little shorter.
At one stage we thought we saw a foot pad on the other side of the valley, so we trudged all the way over there to find nothing but a goat track. We then decided that we really needed to strike camp as the clouds were rolling in pretty heavy. Perfect spot was all the way back on the other side of the valley from where we just came!
Just as we made it back across the valley and just in the back of a small saddle, we pulled our tents out. No sooner had we done that, the heavens opened up! We were soaked through in about 30 seconds, and still no tents up! Eventually we had two tents up and each of us dragged our sodden bodies and gear inside. Hmmm, 4pm, no dinner and no chance of getting out of the tent again tonight!
The storm was very strong, thunder and lightning all night long, with torrential rain and heavy winds. We were later to find out that there had been felled trees out on the main road which cut off our entry point from earlier today! Fortunately neither of our tents leaked, and we both managed to get some sleep overnight. Although I'm still sure Eddy was singing or making music at some point in the night!
Day 2 – Saturday (10kms)
Saturday was looking a little gray also, and very cold. By the time we were both up, the tents had been dried by the wind so were ready to be packed away. And then we set off toward our first stop for the day.
We got away about 9:45am, and our first target was Pretty Plain Hut. Of course our first obstacle was getting through the heavy grass, and Tooma river crossing! And since there was so much rain last night, there was a lot of bog around this morning. We did manage to find a very faint foot pad through most of the valley, but we are not sure if this was a human foot pad, or a wombat trail!
Shortly after the snow, we finally hit the Tooma river crossing. We paced all the way up the river looking for a decent place to cross, but eventually gave up, and pulled the boots off and plunged into the icy depths! The water was thigh deep, and flowing, so it took quite a bit of effort to get across in the vertical position! Water that cold certainly helps you to feel alive!
We pushed on through more bogs and long grass, and eventually make it to the ruin of Pretty Plain hut. Was a beautiful spot too at the end of the valley and would have been a great place to camp if the weather was better! While eating lunch, we got more snow and the temperature dropped again. We still had a way to go today and it was becoming clear that we were not going to make Grey Mare hut tonight.
The next section was a couple of km's until we hit a fire trail. The track took us along a river flat, which was boggy and wet. And eventually up a hill to where the fire trail should have been. Yet again it is another area that the national park has let overgrow. We had a really tough job climb out of the valley along the fire trail which was totally overgrown with new snow gum saplings. They were 2 metres tall and about 100 per square metre! It was tough going and very very slow.
We made it to the top of this particular ridge and then decided to find a camp and try and dry out for the night.
We got a beautiful camp site which gave us shelter, a fire, and a great view of the setting sun. While sitting around the fire, you guessed it, it began to snow again!
Over night we had one of the lowest temperatures that I have ever camped in. We were sure that it was around the -10 degree mark!
Despite the beauty of this sunset, the night closed in around us and temps dropped to -10 degrees!
Day 3 – Sunday (14kms)
Getting up early in the morning, everything was frozen solid, and I mean everything! From my water bottle, to my wet socks and by wet boots! The boots were so frozen that there was no chance of putting them on for some time until the thawed!
We decided to get up early and push on to Gray Mare hut for a late breakfast. But we were hindered by the frozen everything! But we managed to push on the boots, work through the pain and head off for the next steep hill ascent!
We climbed up another 100 metre hill to the top; the weather was now perfect blue skies and looked like it was going to stay this way for some time. We had some great views from the top of the new ridge, and watched as the ice melted from the tree tops and crashed to the ground.
We followed the fire trail for most of the way; until we got distracted by the snow covered main range off to the south and promptly lost the trail! So it was a little off track traveling as we headed down into the next valley. We could see the fire trail again in the distance so we knew where we were trying to go.
Shortly after hitting the fire trail again, we turned left off the track and again did some off track walking. It wasn't too bad, and Gray Mare hut was now only about 1km from us according to the GPS. Of course we had to walk a little further than that to avoid steep valleys, and rising bogs! But eventually we made the steep decent to the hut and its associated graveyard of mining equipment.
The hut was in good repair, and was obviously inhabited by several people over night. It was later that we found out that 20 people called this small hut home during the storm on Friday night!
We hung around here for some time, chatted with a cyclist, spotted a black snake and generally recovered some energy for the rest of the days hike. It was at this point we decided we were not going to make it to Mount Jugungal. Eddy was struggling with a knee strain, and the day was getting away from us. So the new plan was to head toward Dershko's hut, and then out via Round Mountain fire trail tomorrow.
We stopped to camp at about 3:30pm, which gave us plenty of time to collect up fire wood, and dry out our gear before the sun began to set. We had a great camp in the shadows of Mount Jugungal, which proved to be a great light canvas as the sun began to set. The spot was also very quiet, and had great views out along the valley we had just walked up.
The temperature dropped pretty quickly as the sun went down though, and by 7pm, everything was again covered in frost!
Day 4 – Monday (15kms)
We rose to another perfect mountain morning. It was still cold, but the sky was clear. We left camp around 9am and were expecting to get back to the car around 4pm.
First stop was Dershko's hut, which was another well maintained hut. There were a few nice camp sites around it too, especially to the rear up the hill, which might be useful for the next trip.
We broke the day up into short 2-2 1/2 km sections with a 10-15 minute break in between each one. This actually made the day go quickly, but still managed to generate good progress. We stopped for brunch around 11:00 at a stream in a valley.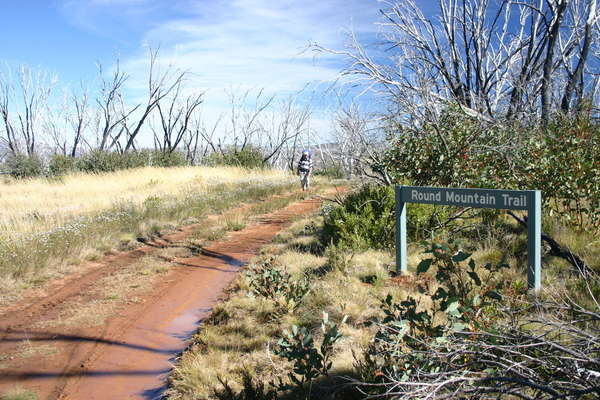 Since most of this trail was simply the reverse of Friday's walk, we knew what to expect, and knew where the hills were. Prior to hitting the final steep section, we took a long break at the bottom to generate enough energy for a successful exit of the park!
Several people had passed us this morning, mostly on bikes. All were pretty friendly. The final person to pass us was actually on foot and he appeared out of nowhere as we went past Farm Ridge fire trail, he passed between us and then disappeared into the distance with nothing more than a simple g'day mate!
We got back to the car park at 2:20pm, so well ahead of our ETA! There was a nice cold beer waiting for us in the esky, a change of clothes, and a chat to some fellow hikers before hitting the road for the six hour drive home!
Overall, we had completed 60km's of walking over the four days. The trip was a great success, providing an amazing variety of terrain, beautiful vistas, and of course extremes of weather!
---
Google Maps
all

day-01

day-02

day-03

day-04

waypoints
If this text does not disappear quickly, then your browser does not support Google Maps, or Google changed their MAPS API without telling me
---